Keyword research is one of the first things most, if not all marketers should be taught. It lays down a foundation and a good starting point when learning marketing. Moz defines keyword research as "a core SEO task that involves identifying popular words and phrases people enter into search engines -make in an attempt to figure out what to rank for." By doing keyword research, you are bringing consumers to your site. By building traffic, you can start looking at conversions and really start seeing which keywords are best for your company.
Moz also says "Your website content should serve to fulfill the needs of your audience." We can dive deeper into that sentence. The needs of our audience are always changing, resulting in our content having to be changed often. After all, our goal is to satisfy the needs for our audience. For example, you're in charge of website content for a business, you have to keep the content fresh and new for the audience. This means analyzing your content at least once a month.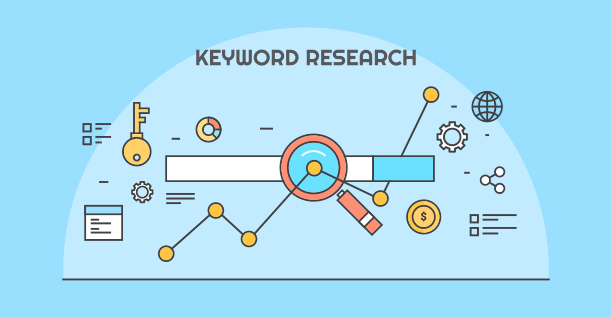 So how to do we actually do keyword research? To fully understand keyword research, we first should know what a keyword is. A keyword can be a word or a short phrase that people use to search the web. It can be within the website, descriptions, ALT txt, etc. Not only will good keywords attract an audience, it builds your ranking higher which helps your site tremendously.
WPBlog mentions 3 disadvantages of poor keyword choices, those include "low traffic, low conversions and no branding."
Traffic effects the other two so we can start with that one. In order to have high traffic, you need competitive keywords that your competition uses. By doing this, we know the keyword is relatable to the content your audience. Having high traffic leads to high conversions.
Having a high conversion doesn't only come from traffic on your site. Theres many factors that a company may focus on, including sales, traffic, action on a website, etc. Conversions also show us if our keywords are working for our audience, which is key.
Branding is another key component to having good keywords. You earn brand awareness the more your website appears in front of an audience. Good keywords will make your website show up on the first page of a search, proving your brand to be strong. This semester, we were tasked with trying to use the keywords found on this page.
Keyword research will always be changing as our audience is always changing. We must meet the need for our audience to be successful. For an SEO to be successful, they must master the art of keyword research. There are many guides out there that can help you and your company become masters at keyword research. Some of them are https://moz.com/beginners-guide-to-seo/keyword-research, https://www.wpblog.com/wordpress-keyword-research/, and https://www.wpblog.com/wordpress-seo-beginners-guide/.